Paul Novotny 30A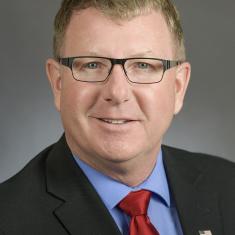 Paul
Novotny
Assistant Republican Leader
District 30A
About Paul Novotny
Representative Paul Novotny represents the cities of Elk River, Big Lake, Big Lake Township, and Otsego.
Paul retired from his 33+ year career in Law Enforcement on May 28th, 2020. During his career Novotny served in many different assignments including Patrol Sergeant, Investigative Sergeant and Firearms Instructor for the Sherburne County Sheriff's Office. He has been involved in coaching youth sports, teaching firearms safety, leading a confirmation group at his church and is an active private pilot.
Paul is married to Nicole who works at Guardian Angel's Senior Services as the Director of Human Resources. They have raised two daughters who both graduated from Elk River High School, the youngest in 2019. 
Issues
Human Services Finance and Policy
Judiciary Finance and Civil Law
Public Safety and Criminal Justice Reform Finance and Policy