Lisa Demuth 13A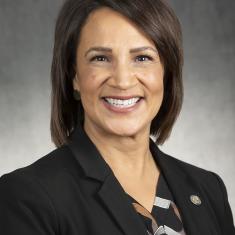 Lisa
Demuth
House Republican Leader
District 13A
About Lisa Demuth
Representative Lisa Demuth is the House Republican Leader, and represents Paynesville, Cold Spring, and portions of Stearns County.
Rep. Demuth is a small-business owner and previously was a ROCORI School Board member for 11 years. 
In 2022, Demuth was elected be her colleagues to serve as the House Minority Leader. She is the first black lawmaker to serve as a caucus leader, and the first woman to serve as House Republican leader.
Demuth was recently elected to her third term in the Minnesota House of Representatives. For the past two years she has served on the Education, Early Childhood, and Health Committees, as well as serving as an Assistant Minority Leader for the House Republican Caucus. 
Issues
Rules and Legislative Administration (Republican Lead)